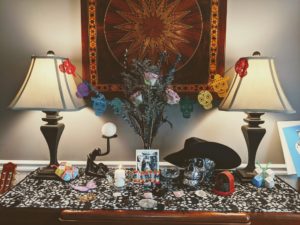 Relationships require ATTENTION and INTENTION.
I love altars as a way of physically setting an intention in a way that draws visual attention. They become a cue to focus on the things that are important in life.
Our family altar was in need of a refresh anyways, so inspired by some of my witchy friends, I decided to set an intention to honor my ancestors with a Sahmain/Day of the Dead altar.
Those who have come before both physically and emotionally shaped who we are today. We've inherited our ancestors' stress, their trauma, their healing through epigenetics. We've inherited the ways we learned to show and receive love from our parents and their parents through an unbroken chain of parents that at some point in the past must have lived in supportive communities and tribes like we were meant to instead of the fractured and dysfunctional nuclear families that many of us have now.
No matter our ancestors' history, today we have a choice to set a new intention. To break negative cycles of the past and move forward in a way centered through love.
Shout out of gratitude to the amazing florists @TheRebelPetals for the spooky bouquet. I am in love with the lotus pods. Support local small business and
#RebelWithFlowers